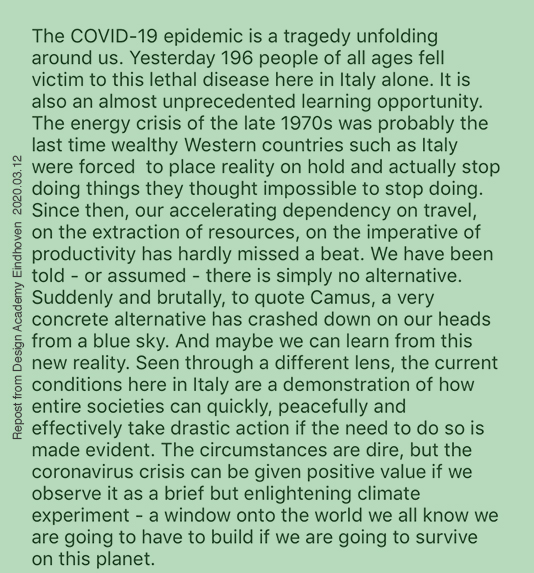 Yesterday the COVID-19 outbreak was confirmed a pandemic, today organizers all over the world are hitting the bemuddled ground of temporary shutdowns.

But we can choose to see this as a frozen moment where economic and geopolitical interests are put aside in acts of solidarity. The question is how we use this situation to re-think and re-group around the issues of global distribution systems and the way they structure our material reality? Will this temporary freeze be a shift in our thinking or will this moment also melt away with the glaciers?

Today we had planned to send out the calls for applications to three new learning platforms organizing in and around Index this spring and summer. Within this current moment, we found it hard not to comment on and support the effort to make this "quarantine of consumption" matter.

With this comment we ask you all to stay with solidarity, take care of this moment, and use its potentials in re-thinking distribution.

With a warmth that keeps the body and the planet cool.
/Index Team


Deadline 16th March: Art and Distribution: Exhibition practitioners and other ways to distribute
Deadline 12th April: Summer Internship: Tracking Distribution
Deadline 12th April: Call for contributiors: Kybernein Academy