Welcome to the opening: Melanie Gilligan FILMS AGAINST CAPITALISM
3 November 2022, 17:00–20:00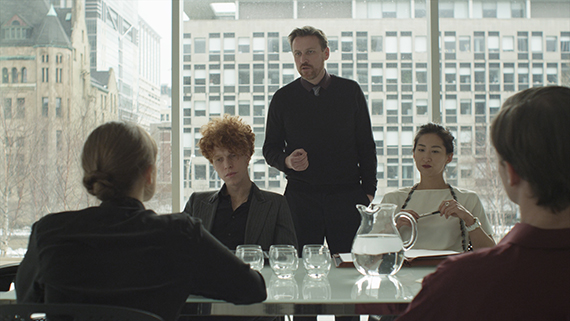 Welcome to the exhibition opening at Index on Thu, 3 Nov from 17:00 – 20:00. An artist talk with Melanie Gilligan will take place starting at 18:00 together with Director Marti Manen, and the Head of Department for Research and Further Education in Architecture and Fine Art at the Royal Institute of Art, Petra Bauer.
In FILMS AGAINST CAPITALISM, Melanie Gilligan presents six video projects including sculptural video works that comprise her doctoral research: The Common Sense, Parts-wholes, The Bay Area Protests, Crowds, Home Together and Health as Individual vs. Health as Social. In her video works, Gilligan brings attention to often neglected effects of capitalism on people who are marginalized such as labourers working on low-incomes and older people, as well as to political conditions such as police and state violence. Through the process of making the films, Gilligan maps how her practice changes over time, replacing a closed-set approach (The Common Sense) with mixing fiction and documentary to reflect everyday political settings (Crowds); this allows for a more direct focus on economic and social systems.
FILMS AGAINST CAPITALISM continues to Sunday, 13 November.