Performative walks: Hanni Kamaly, Passages #1
2 May 2021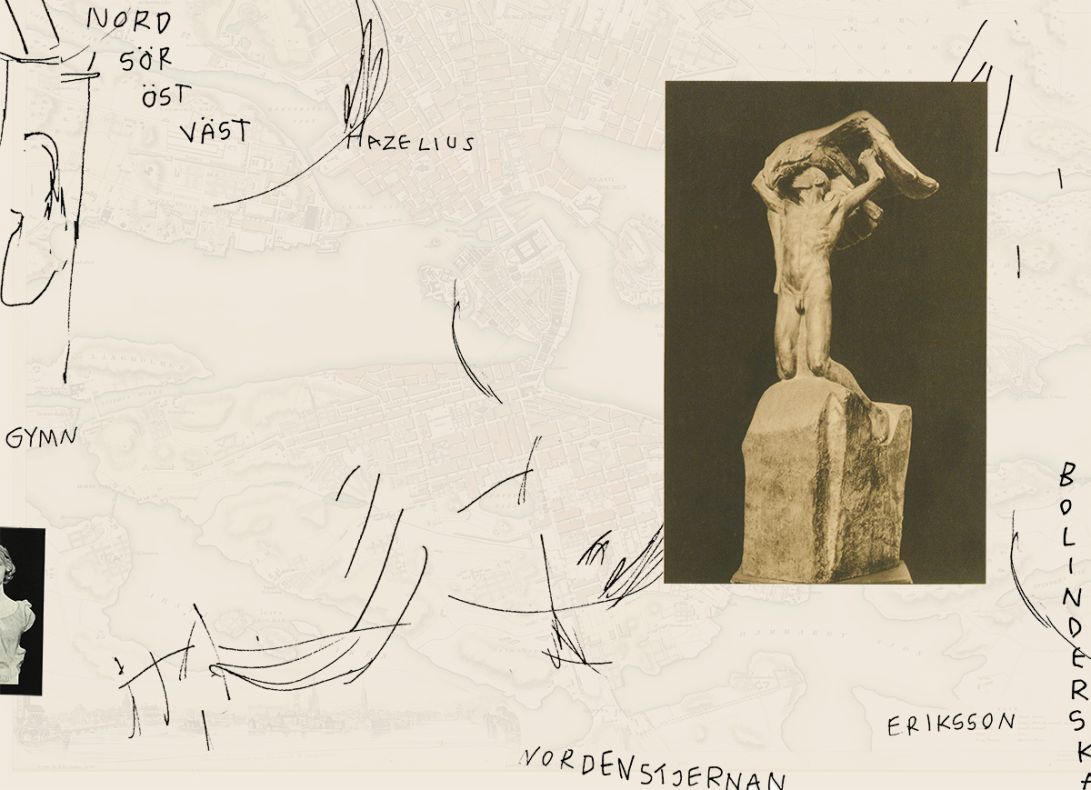 Through film and performance works, Hanni Kamaly draws attention to how narratives of oppression transfer into contemporary public space and everyday life. In an extension of the mind-mapping methodology in the research process, Kamaly reveals the referents that are enduringly present: in architecture, the politics of representation within art histories, in media and pop culture.

In parallel to the exhibition THE MIGHT THEY HAVE, Hanni Kamaly has developed a series of performative guided walks through Stockholm, produced by Index in collaboration with Stockholms Kvinnohistoriska (Stockholm Museum of Women's History) as part of the initiative Utom Husen. With this iteration of walks, structured around the specific sculptures, architecture, public space and histories manifested in Stockholm, the artist invites small groups to participate in demarcating what is visible but so often unseen in our common spaces.

Hanni Kamaly, Passages
Sunday 2 May (FULLY BOOKED), Sunday 16 May (FULLY BOOKED), Sunday 30 May, 13:00-15:30
Meeting point: Index
If you wish to visit the exhibition the same day, we recommend doing so before the walk begins. Index is open from 12:00 on Sundays.
Limited places, RSVP required. Register by emailing rsvp@indexfoundation.se
Hanni Kamaly (b. 1988, Hamar, NO) is a visual artist based in Stockholm. Kamaly received an MFA from Malmö Academy of Art and has also studied at Bergen Academy of Arts and the International Art Academy of Palestine. Kamaly's work has been exhibited at the following institutions and spaces: Moderna Museet Malmö (2020), Interkulturelt Museum, Oslo (2019/20), coyote, Stockholm (2020), Lunds Konsthall (2019), Ginerva Gambino, Cologne (2019), Tegel, Stockholm (2019), Moderna Museet, Stockholm (2018/19), Luleå Biennial (2018/19), Galleri Ping-Pong, Malmö (2018) Ahrenshoop Kunsthaus, Ahrenshoop (2018), Malmö Art Museum (2017/18), Skånes konstförening, Malmö (2017), Almanac, London (2017), Inter Arts Center, Malmö (2016) Rupert, Vilnius (2016).

Read more about the project Utom Husen here.
Stockholm Museum of Women's History is a new and groundbreaking museum dedicated to women's history. Together with their member organisations, they work to have women's history and stories explored, acquired, preserved and made accessible and visible to the public.