Leaving is Some Sort of Staying
16 June 2023, 18:00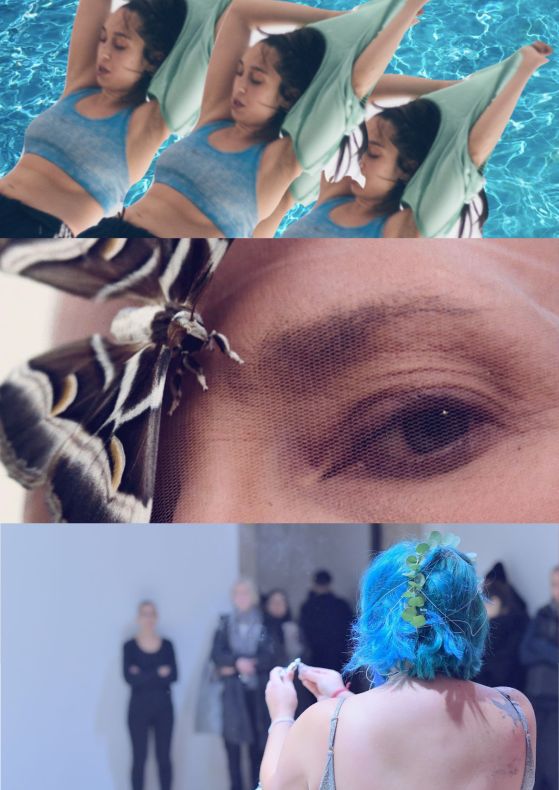 Leaving is Some Sort of Staying is an event presenting a series of three performances by Sepideh Khodarahmi, Linda Nurk and Daiane Rafaela.
In a collaborative effort to reflect on what it means to connect and disconnect, Leaving is Some Sort of Staying aims to pay tribute to the travelers; the ones missing walls, foundation, and roots; and the ones looking for the tools to navigate these contradictory feelings of loss and freedom. To create a collective feeling of home, three artists take on their own approach to the ongoing search as human beings for a sense of belonging, in the world and within ourselves, using performance as a medium to express oneself and connect with the audience.
This need for genuine connection is essential to realize a sense of home, which is associated with notions of comfort, trust, and retreat. Perceived as a geographical place, or perhaps an imaginary space, the home allows powerful emotions to flow in a safe environment. What if this sense of security, which some may take for granted, disappears? Maybe the home isn't a place, but an active, continuous attempt to inhabit both a body and a space, exploring how our body relates to the rhythm of our surroundings. Maybe the home is a feeling of belonging as a result of collective memory-making. Inherently connected to the notion of power, it can also be seen as a political field that is in flux, evolving and transforming, yet always leaving traces behind.
Program of performances:

- 18:30-end: Memorabilia by Daiane Rafaela (durational);
- 19:00: My Own Room by Sepideh Khodarahmi;
- 20:00: Bodies in Rhythm & Space by Linda Nurk (followed by a looped video work).

N.B.: As an integral element of the durational performance Memorabilia by Daiane Rafaela, visitors are invited to bring a personal, meaningful object, reminding them of "the feeling of home".
Participating artists:
Sepideh Khodarahmi is an Iranian/Swedish performer, dancer and actor with a background at the University of Stage and Music in Gothenburg, the Amsterdam University of the Arts and the Broadway Dance Center in New York. Their work centers around the notion of power, fused with bodily explorations of a space, in a search for belonging and mixed with elements of queerness, drag and spirituality.
Linda Nurk is an Estonian/Swedish artist who works in the realm of urban micro-farming and material lifecycle reconsideration. Crafting textiles in collaboration with non-human entities, while reimagining the future of ethical production, she strikes a harmonious balance between humanity, flora, textiles, and living organisms.
Daiane Rafaela is a Brazilian multidisciplinary artist whose work focuses on performance, visual arts and theater. Her artistic exploration revolves around the body as a political territory, delving into its aesthetics while drawing inspiration from her personal history, experiences, and feminist influences, predominantly focusing on female authors.
Leaving is Some Sort of Staying is an event curated by Louise des Places and Jonas van Kappel:

Louise des Places is an art curator and arts journalist. She has written for several art magazines, curated exhibitions and events as an independent art curator, and with her art collective 'Lonely Arts'. She worked as a gallery- and an artist's assistant in Paris and Brussels, and as an assistant curator at SomoS Arts Berlin.
Jonas van Kappel is an art historian, curator and literary scholar from the Netherlands, based between Amsterdam and Stockholm. During his MA in Curating Art at Stockholm University, he has worked with various art institutions such as the Stedelijk Museum of Amsterdam, Nobel Week Lights and Accelerator.
Jonas and Louise are currently engaged in internship placements working as part of the team at Index Foundation.