Parrot School: Lagnuage adn Txet & Zine Publication
16–24 November 2019
The Parrot School is a school learning to unlearn, rehearsing how to do things wrong, missunderstanding the brief, copying what your friend did and dare to call ourselves one of plenty.
During two weekends The Parrot School flocks at Index, working through Lagnuage adn Txet and beginning a battle with the wonderful but sometimes moody printer Canon iR-ADV C5235 in a zine workshop run by the artists behind Moon Space Books.
The weekends are co-hosted by the Index Teen Advisory Board and invites everyone interested to come and bounce sentences off of big sculptures in a play with language, text, sounds, and its distribution.
The Parrot School is a continuous voicing of the thoughts gathered at Index Summer Festival The Defying Parrot. As a character recognized for it's ability to seamingly repeat and mimic human sounds – The Parrot has become a critical metaphor for the construction of a school where missunderstandings, misscommunications, glitches and wrongdoings are equal with A+.
Lagnuage adn Txet: 16 November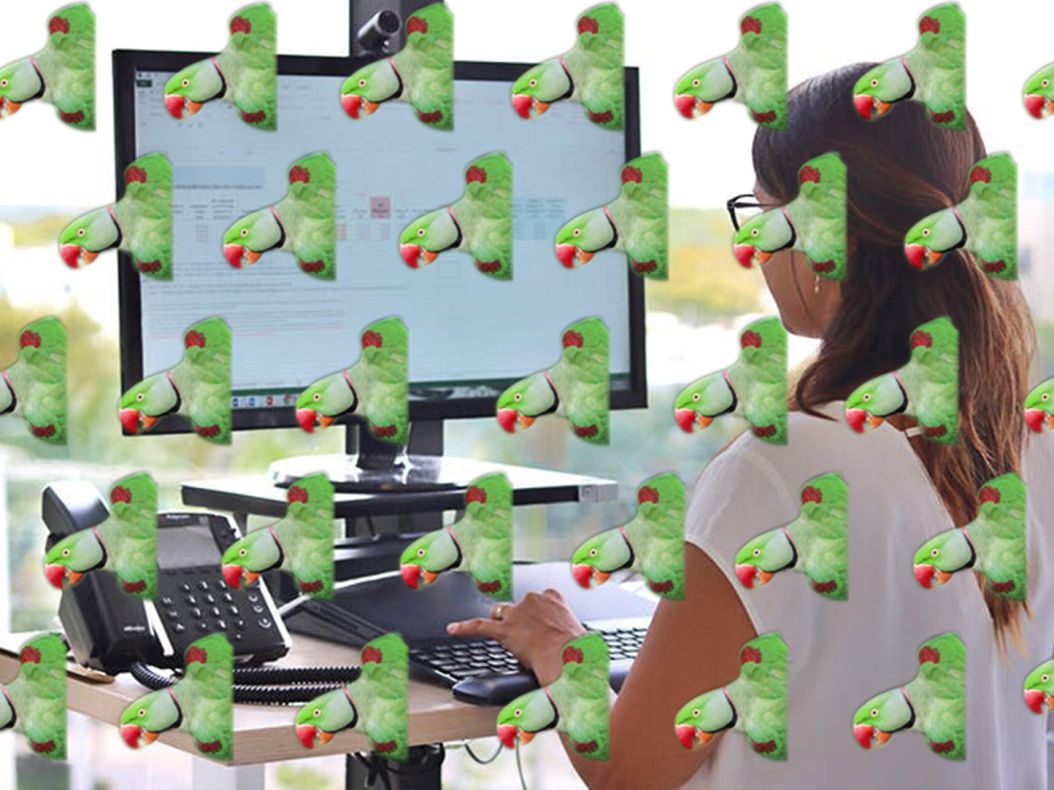 Writing workshop: Writing with and about art
13:00 – 15:00
Within Teresa Solar multilayered exhibition RIDE RIDE RIDE, Index director Marti Manen hosts a workshop in writing about and with art. We use quick tools and responsive actions to find the languages that both tie and rip the connections together.
Reading workshop: Poisoned by a Poisonous Oyster
15:00 – 16:00
This workshop is about reading wrong, missunderstanding, missinterpreting and the possibilities that comes from it. Together we fail to read a text, and listen to the sounds that are produced between the words. Starting from the book Poisonous Oysters by artist Anna Barham, this reading is an expansion of Index Research Processes.
Homework: Language is a Virus
Computers and artificial intelligence learn by mimicking, collecting and analyzing human activities. Programs like Google Docs can continuously collect and learn from the botched emails and personal confessions we feed into it's software, reading between our lines. This homework is a an attempt for a collective counter-action confusing the algorithms by feeding it nonsense, babble and words yet to be known. Each person who sign up for the homework will get access to a shared google document – where the action will take place continuously during the week. Sign up by emailing "Language is a Virus" to office@indexfoundation.se.
Make and publish your own zine: 23 & 24 November
13:00 – 16:00
During two days Index brings out the beloved Printer Canon iR-ADV C5235 and puts it right at the heart of the exhibition. You are all invited to come and make zines together with us and artists Hanna Andersson and Björn Engberg. We experiment with what a zine can be, and make our own versions that can be presented in Index Zine Shop afterwards. Hanna and Björn will share practical knowledge about bindings, foldings and formats of selfpublication. This workshop is free of charge, and there will even be coffee and fika. Limited amounts of places though so sign up by emailing to office@indexfoundation.se
About the artists:
Hanna & Björn is an artistduo consisting of Hanna Andersson and Björn Engberg. Driven by escapism they long to paus a dystopian reality. Working in different medias they both have a background in making and publishing their own magazines, fanzines and more advanced artists books. Björn Engberg is also the founder of the independent publishing house Moon Space Books and recently published a book by Hanna Andersson.