Ulrika Sparre:
EAR

TO

THE

GROUND


Opening: Fri 2 October, 16:00-20:00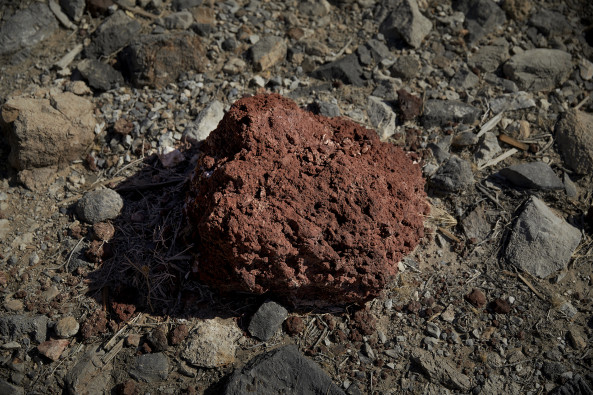 Important: We invite you come by during the opening 16:00-20:00. To maintain distancing there can be maximum 50 people in the space at once.
Consider a stone. It is earth and time compressed. A slow and continual exertion of pressure, a solidifying under the weight and mass of material that comes from and makes up the earth. Of time itself.
A desert, a stone, traces of time. Can we see time? Can we feel time? Or is it something to be heard? Ulrika Sparre works with stones and their qualities. In her work she focuses on specific characteristics of stones to open up the spectre of time widely. Stones have their own temporalities, a longevity unthinkable for humankind: they were here before us and will continue to be here after us. Amongst their seams and fault lines we can perceive glints and glimpses of past realities, histories sedimented and pressed together. Stones and minerals explain –quietly– something about life. Ulrika Sparre decided to listen actively to them.
The exhibition Ear To The Ground presents a film, sculptural works and also hides some stones within its structure. Not everything can be seen, it's also a question of attention. In her film we can observe a landscape and some of its details; we can appreciate the abstract and physical aspect of this specific landscape. Through the film, we hear the sound of the stones while Ulrika Sparre is listening to them. Sound surrounds our bodies and it is through sound that another form of communication is established. To listen shows a desire for understanding, offers a time and a pause, a hand and a caress.