Mini-lecture series with OEI + guests: Moving mountains & mounting transitions:
10–11 April 2021, 14:00–17:00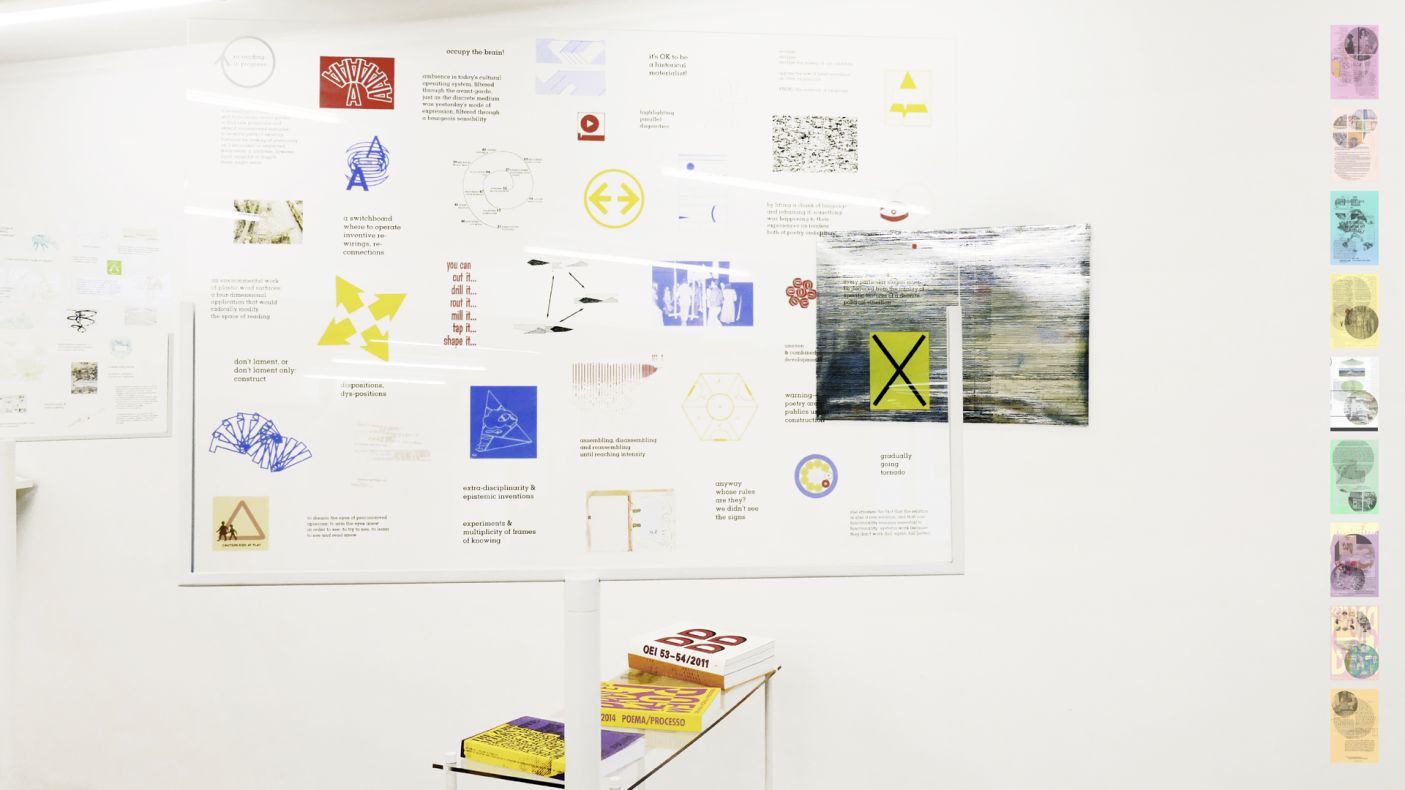 Moving mountains & mounting transitions: two days on 'editorial thinking' with OEI
April 10 & 11, 14:00–17:00

On the occasion of the exhibition Editorial Thinking at Index, OEI magazine organizes a two-day event, inviting artists, editors, publishers, writers, and scholars to reflect on the notion of "editorial thinking" in relation to their different practices.

Each day will comprise two sessions and will be live streamed via Index' Twitch channel at twitch.tv/indexfoundation

The talks take in conversations around editing and publishing as artistic and literary practices, as well as focusing on new and latest publications by OEI. Guests include Alice Centamore and Pierre Paulin, Michalis Pichler, Nils Olsson, Sezgin Boynik, Lytle Shaw, Axel Andersson.

Sat 10 April, 14:00-17:00

Addressing "(im)proper places for other books", Michalis Pichler will talk about historical and recent initiatives of artists who have tried to break out of the process of cultural confinement of their books. This talk will be followed by a short lecture by Nils Olsson on editorial practices taking its cue from Walter Benjamin's "The author as producer". Joining us from Paris, Pierre Paulin and Alice Centamore will focus on editing and publishing through the lenses of art, archives, and curating.

Sun 11 April, 14:00-17:00

After an introduction to some of the complexities between fieldwork and editing by Jonas (J) Magnusson & Cecilia Grönberg, Lytle Shaw will talk about his new book New Grounds for Dutch Landscape (OEI editör), where he uses an experimental, site-specific method to demonstrate how 17th century painters Jan van Goyen, Jacob van Ruisdael, and Meindert Hobbema did not so much represent the newly made landscape of Holland as re-enact its reclamation and ongoing threats to its stability. Axel Andersson presents his new book Negative Geology – A Cultural and Technical History of Early European Mountaineering (OEI editör), on mountaineering before Romanticism, which traces the interconnected developments in literature, visual arts, philosophy and technology contributing to the continent's intense interest in mountains. Sezgin Boynik, the guest editor of the latest issue of OEI, #90–91: "Sickle of Syntax & Hammer of Tautology. Concrete and Visual Poetry in Yugoslavia, 1968–1983", tackles the question of how to edit avantgarde archives while introducing this new OEI issue.

*

Participants:
Michalis Pichler is an artist and author. He has published conceptual bookworks with Printed Matter, Revolver/Archiv für aktuelle Kunst, cneai (Chatou), and Kunstverein Milano and edited the critical anthologies Books and Ideas after Seth Siegelaub and Publishing Manifestos. He co-founded Miss Read: The Berlin Art Book Festival, an artist-run public meeting place for discourse around artists' books, conceptual publications, publishing as practice, which has evolved into Europe's largest art book fair.

Nils Olsson is an essayist and editor, and active at the University of Gothenburg as a senior lecturer at the Film, Photography and Literary Composition department at HDK-Valand, and as the coordinator of the "Editorial practice" program at the Department of Literature, History of Ideas, and Religion. His PhD thesis, Att sätta texter i verket, Gertrude Stein, Arne Sand och litteraturens °befintliga specificitet, was published in 2012.

Through poems, notes, essays, translation, publishing, and the reproduction of clothes from his own wardrobe, Pierre Paulin inscribes his artistic work in today's visual culture. His practice is supplemented by his bilingual magazine, la robe, of which he is the editor and designer. His work has been presented in various institutions including the Palais de Tokyo, the Ricard Foundation, the Calouste Gulbenkian Foundation, and Printed Matter, Inc., New York. Solo exhibitions at Plateau, Frac Ile-de-France and at Circuit, Lausanne.

Alice Centamore is a researcher and writer from the US. She has worked in the archives of The Kitchen, NY, The Emily Harvey Foundation, NY and the Getty Research Institute, LA. Presently, she is working on an exhibition project on Higgins's publishing house Something Else Press which is scheduled to open at Museo Nacional Centro de Arte Reina Sofía, Madrid in 2022.

Lytle Shaw is professor of English at New York University and a contributing editor for Cabinet magazine. His books include Frank O'Hara: The Poetics of Coterie, The Moiré Effect, Fieldworks: From Place to Site in Postwar Poetics, and Narrowcast: Poetry and Audio Research. His museum catalog publications include essays on Robert Smithson, Gerard Byrne, Zoe Leonard and the Royal Art Lodge.
Axel Andersson is a Swedish historian and critic. He writes about nature, colonialism and art. His recent books include Den koloniala simskolan, Atlantvärlden and Absolut farmakon. His PhD thesis A Hero for the Atomic Age: Thor Heyerdahl and the Kon-Tiki Expedition was published in 2010.
Sezgin Boynik lives and works in Helsinki. He completed his PhD on the "Cultural Politics of Black Wave in Yugoslavia from 1963 to 1972" at Jyväskylä University's Social Science department. He has been publishing on numerous topics, including punk, the relation between aesthetics and politics, cultural nationalism, Situationist International, Yugoslav cinema, and Russian formalism. He is the editor of Rab Rab Press and Rab-Rab: Journal for Political and Formal Inquiries in Art.

Jonas (J) Magnusson & Cecilia Grönberg are active as editors, writers and artists. Since 2001 they have been working together on various publishing projects: books, magazines, exhibitions, and displays. Their practice has often addressed questions on archives, images, documents, montage, place, and alternative forms of historiography. Since the early 2000s they run the publishing project OEI together. They are currently also working with two artistic research projects: "The expanded book: stratigraphy, locality, materiality" and "The latent image (uncovering developing)".

OEI is a Stockholm based magazine for extra-disciplinary spaces and de-disciplinizing moments – experimental forms of thinking, montages between poetry, art, philosophy, film, and documents; critical investigations, editorial enunciations, aesthetic technologies, non-affirmative writing, new ecologies, and counter-historiographies. OEI, started in 1999, has published 91 issues. The accompanying publishing structure OEI editör has released some hundred titles of investigative poetry, aesthetic documents, bookworks, theoretical and poetological essays. As part of its publishing practice OEI has also organized numerous events: from readings, presentations, lectures and talks to seminars, film screenings and exhibitions.

The events are organized with support by Iaspis – The Swedish Arts Grants Committee's International Programme for Visual and Applied Artists