Film Screening:
Mandarin Ducks
29 April 2015, 19:00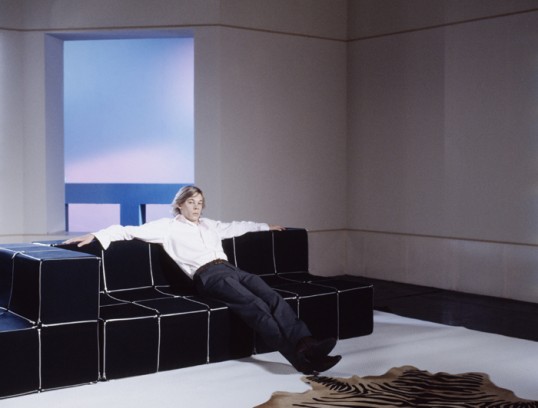 To accompany Willem de Rooij's exhibition, Index and Film i Samtidskonsten present two screenings of his rarely seen film Mandarin Ducks (with Jeroen de Rijke, 36 min., 16 mm, 2005) at Filmhuset. This stylised and fragmentary story around ten individuals gathered in an apartment on a warm Sunday evening was initially produced for de Rijke / de Rooij's exhibition at the Dutch Pavilion in Venice 2005.
Symbols of fidelity in Chinese culture, the mandarin ducks of the title are believed to be life-long couples. In contrast, De Rijke / De Rooij's film seems to be about the opposite. As the film unfolds, the gregarious evening atmosphere of the first scenes is interrupted by melodramatic personal encounters. Played out in a cool modernist apartment with carefully arranged lighting, the characters erupt into displays of animosity, sexual tensions and undisguised jealousy. In the film, de Rijke and de Rooij point towards the personal as political and the way in which the established social codes slowly disintegrate scene by scene.
The artificial and stilted mannerisms of the ten characters are an effect of a stylistic device that the artists use in this film. In a conversation between de Rooij and the artist Jeff Wall at the Witte de With Center for Contemporary Art in Rotterdam in 2009, de Rooij commented on the use of "referentiality" and the use of historical quotations by contemporary artists. In de Rooij's words, "we were struck by the fact that around us we saw so many works that seemed to lean very heavily on references and seemed to legitimize themselves by referring to other interesting stuff, be these artworks or any other reference in the cultural field." Through an overload of references, "Mandarin Ducks" creates an uncanny uneasiness about cinematic or theatrical familiarity and the codes in which stories are told and forms legitimised.
Location: Bio Mauritz, Filmhuset, Borgvägen 1-5, 115 53 Stockholm
Admission: 40 SEK
Links
Film i Samtidskonsten