Performance practices Sitcoms:
THE

BOOK

an Interfacial Sitcom
Saturday 19 September 2020, 19:30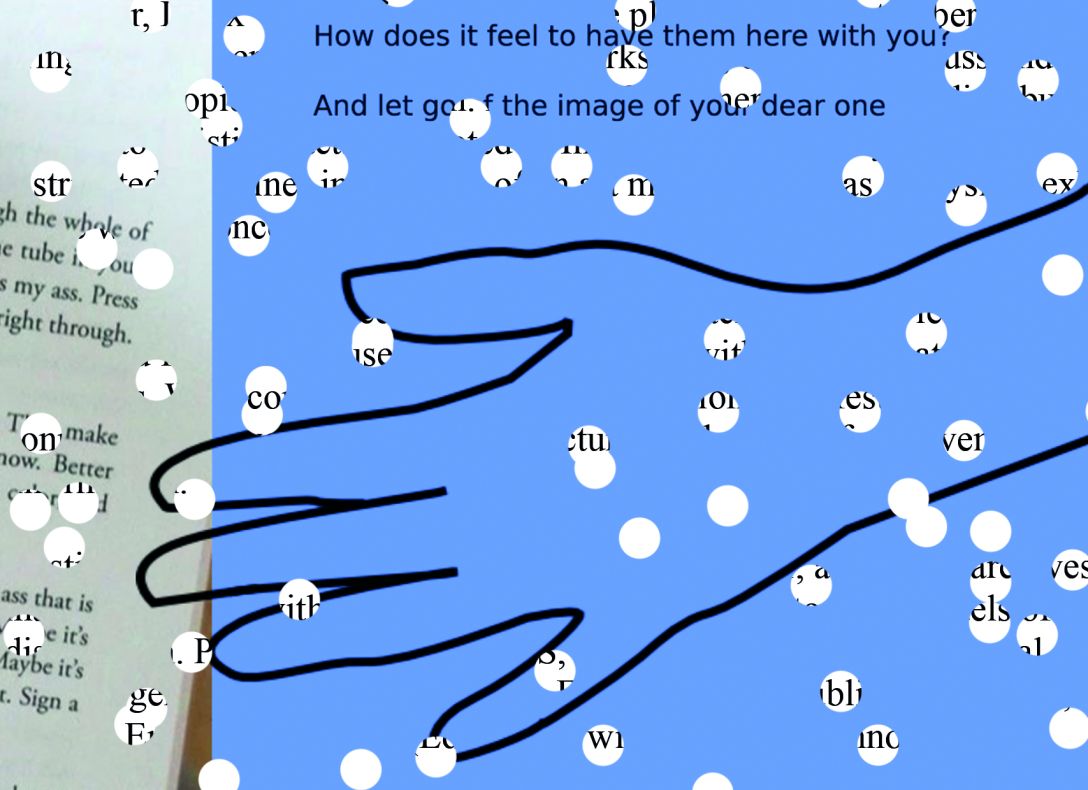 THE BOOK – An Interfacial Sitcom comes out of an investigatory process into digital and material interfaces initiated by Sara Kaaman and Klara Utke Acs including workshops, readings, writing, scrolling, folding, distancing and touching. Through Leaking Container, THE BOOK is activated in the form of a play with minimal special effects, pleasurable puns and meditative moments.
THE BOOK – An Interfacial Sitcom explores, explodes and expropriates interfaces of contemporary life. The story moves between technologies spanning from ancient practices of human touch, via the well-established standard of the codex and into the newest digital devices. Whilst the surrounding ocean water cools the heat of the thousands of servers at work, it also keeps them out of sight, so people can spend time with their clouds and open windows effortlessly. THE BOOK lets these technological devices come alive. THE BOOK gives the audience a unique chance to enter this mysterious yet streamlined landscape and get in touch with sticky zones between digital, printed and human matters.
Sara Kaaman is a graphic designer, educator, writer and maker of drawings. She is interested in the intersections of publishing technologies, bodies, politics and poetry. She teaches graphic design at Konstfack University of Art, Crafts and Design in Stockholm and co-directs the BA program in Graphic Design & Illustration. She is the graphic designer and occasional co-editor of Girls Like Us magazine. With Maryam Fanni and Matilda Flodmark she forms the research collective MMS, investigating the (labour) histories of graphic design via feminist theory and practice. Their book Natural Enemies of Books – A Messy History of Women in Printing and Typography (Occasional Papers) was published in 2020.
Klara Utke Acs is an artist working with dance and choreography; they work with poetics and body politics in the borderlands of performance, dramaturgy, curation, sound, film, and language. Their work is occupied with counter-hegemonic strategies from queer queries and crip currencies. Klara is active in the scenes of Stockholm and Copenhagen and holds a BA in Dance Performance from DOCH, Stockholm University of the Arts. They are a part of the studio-cooperative höjden studios in Östberga, queer art-club collective Fake Daughter and activist group Queers Against Fascism. In 2017 they initiated and organized the ongoing dance and reading group POSSE. Their work has been presented in Sweden, Denmark, Norway, Germany and the UK. They have worked with artists such as Puer Parasitus, Yolanda Aurora Bohm Ramirez, Pan Daijing, Pontus Pettersson, Ellen Söderhult, Soho Rezanejad, HVAD, Young Girl Reading Group, Cassie Augusta Jørgensen, Stina Nyberg and Eleanor Bauer.