Caliphate Pop
3–4 February 2022, 17:00–19:00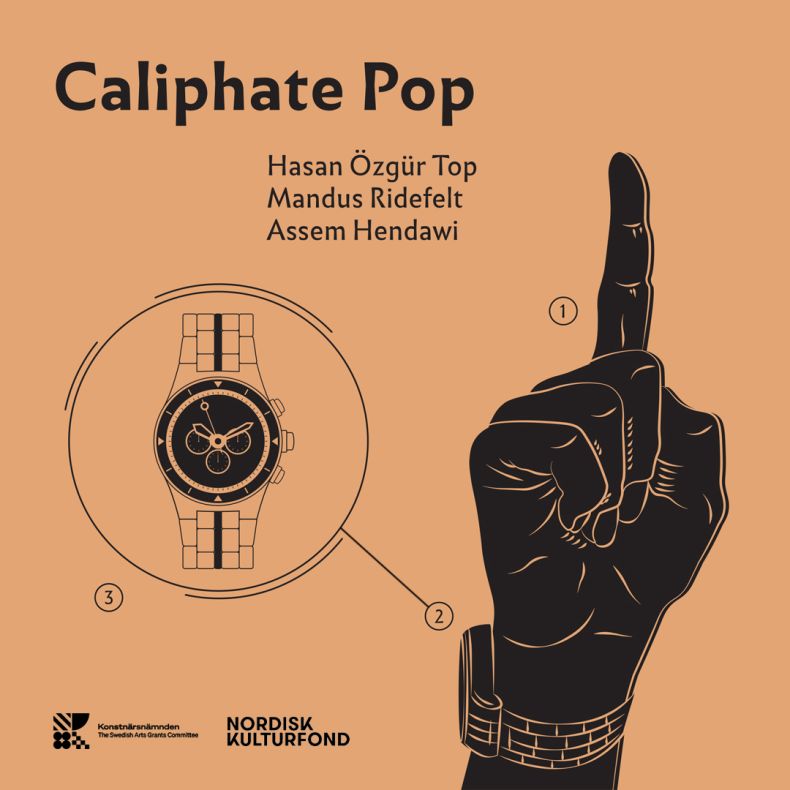 In 2017, the recent territorial instance of 'The Caliphate' under the rule of the Islamic State came to an end with the recapture of Mosul and Raqqa. But what about the technopolitical web in which the hyperkinetic and mythologically charged propaganda of the Islamic State proliferated through sound, vision and audiovisuality?

Caliphate Pop does not attempt to describe an anomaly of radicalization: "How could these persons do it?" While the IS propaganda apparatus was equally surprising and disturbing, Caliphate Pop departs from the opposite premise that a political entity like the Islamic State and its operative aesthetic is both possible and probable.

Through a range of historical accounts, audio-visual analyses and theoretical speculation, Caliphate Pop approaches the moment where the grafting of mythologies onto the volatile technopolitical web of contemporary digital pop cultures take on a genocidal manifestation.

During the event we will discuss the images and sounds that underlie concepts such as posthuman Jihadism, the appropriations of affective infrastructures of late capitalism and the political stakes of popular audiovisualities.

Please note that visitors are required to make a reservation by sending an email to booking@indexfoundation.se. Visitors can attend both days or specify which date they will attend.

Thu, 3 Feb 17:00-19:00
Screenings – Listening – Research Presentations – Book Launch
Link to livestream here.

On Thursday, the book Caliphate Pop (Sarnama Press, 2022) will be launched. The program consists of screenings, listenings and presentations hosted by the authors Hasan Özgür Top, Mandus Ridefelt and Assem Hendawi. The book will be available on a donation basis.

Fri, 4 Feb 17:00-19:00
Conversations
Link to livestream here.

Friday offers a series of bite-sized conversations between Yektan Türkyilmaz, Anahid Kassabian, Eylül İşcen, the authors and the audience.

The event will take place physically at Index with occasional online presences by some guests. The event will be livestreamed, links are provided above.
———

Hasan Özgür Top explores the ways in which the relations between image, text, mythology, ideology and theology takes shape in politics. Top held his first solo exhibition in Lima and his works have been exhibited and screened in Istanbul, Berlin, Shanghai, New York and Vienna. He graduated from Marmara University, Faculty of Fine Arts, Painting Department in 2014 and 2019. In 2020, Top received his MA from the Dutch Art Institute.

Mandus Ridefelt is a writer living in the Öresund region. His current body of work addresses the aesthetization of sound as heard in popular music and in relation to biology and philosophies of technology.

Assem Hendawi was born in Alexandria, Egypt. He holds a Bachelor's Degree in Business Management from Alexandria University and a Master's of Art in Art Praxis from the Dutch Art Institute. Assem is an artist and researcher who works with videos, computer-based media and text to explore planetary computation, critical posthumanities and the way in which technology constructs subjectivity. Hendawi has a particular interest in the manipulations that accompany late capitalism's technologies as the site of rewriting narratives, identities and traditions.

Yektan Türkyilmaz received his PhD from the Department of Cultural Anthropology at Duke University and currently works at Central European University, Vienna. His work addresses notions of collective violence, memory making, reconciliation and the politics of sound and music. Yektan's major present research paths are the rethinking of the Armenian Genocide and the sonico-political impacts of early recording technologies in Eastern Anatolia.

Anahid Kassabian is a scholar activist living in the UK. During her academic career as professor of musicology at University of Liverpool, she studied sound and music in audiovisual contexts and authored two highly influential books. Hearing Film discusses paths of identification through music in Hollywood films of the 1980s and 90s; and Ubiquitous Listening, that thematizes background listening and how it conditions distributed subjectivity. Today, Anahid works as programmer at the Liverpool Arab Arts Festival.

Eylül İşcen is a media theorist working at ICI Berlin after receiving her PhD in Computational Media, Arts and Cultures from Duke University in 2020. Her dissertation examines counter-visual artistic practices that intervene in the material conditions and ethico-legal systems underlying the extractive operations of computational media in the context of the Middle East. Her ongoing research concern the limits of cybernetics and decolonial thought.
The project is supported by Nordisk Kulturfond and Konstnärsnämnden

Graphic Design: Engy Moshen