Bookshop Situation Series: Tidskriften ASTRA Issue Launch and Public Conversation
1 December 2022, 18:00–20:00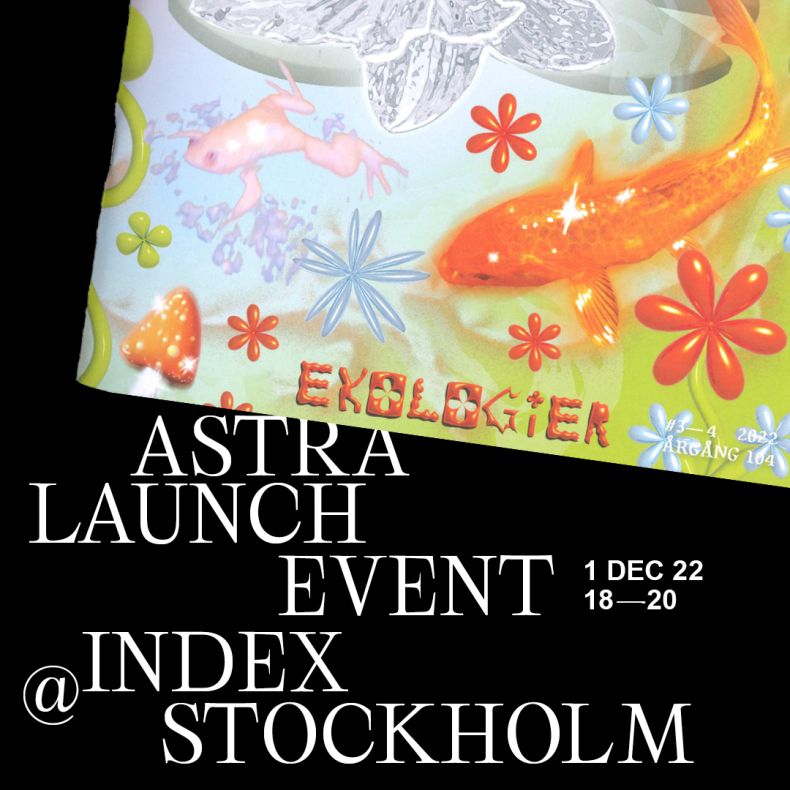 Welcome to the launch event for Tidskriften Astra #3-4 2022 on the theme of ecologies!
Astra is a publication (since 1918, Finland), both printed and online, which challenges, rebels, encourages and invites change. The magazine is published four times a year, each issue with a current theme. Predominant for each issue of Astra is the feminist outlook and understanding of the world. Astra is queer, anti-racist, decolonial and ecofeminist in all its forms in the shape of the publication, which sometimes overflows into release parties, podcasts, and panel discussions.
The Astra #3-4 2022 Ekologier issue is special in that it's been designed and illustrated by 2nd year BA Graphic Design and Illustration students at Konstfack University of Arts, Crafts and Design in Stockholm. The 4-week project was initiated and mentored by Astra's Art Director Roby Redgrave and the illustration work was mentored by Alexandra Falagara, former co-art director of the Swedish feminist magazine BANG. The issue is a collective design creation, where in many ways the work process mirrors the ecological theme. Through many voices, collaborations and connections, this issue of Astra has been allowed to grow and evolve over time, and finally become this wonderful whole.
The launch event is on Thursday December 1st from 18:00-20:00, with a public conversation / panel talk on the topic, questions in graphic design and art direction within feminist work. The public talk will start at 19:00 and will be in English. The discussion is with Amy R. Gelera, Parasto Backman and Roby Redgrave.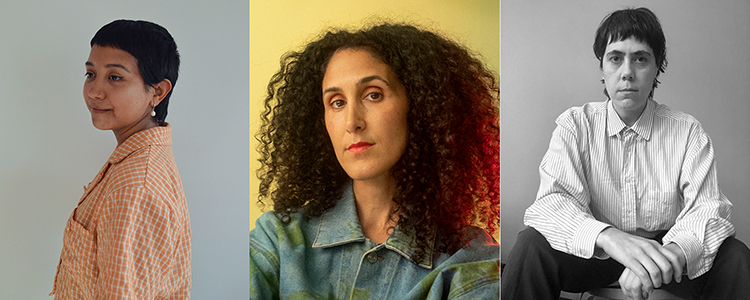 Amy R. Gelera (they/she) is a Latinx visual communication designer (MA) based in Helsinki. Their wildest fantasies revolve around decolonization and representation. www.amygelera.com

Parasto Backman is a graphic designer and educator. She works with projects across art, culture and business and her commitment lies particularly in highlighting design as a complex and versatile practice with great opportunities and responsibilities in a wider context. www.parastobackman.com

Roby Redgrave (they/hen/den) is a Stockholm-based artist, graphic designer and teacher. They are invested in publishing as a tool for collective liberation and trans survival. They are currently working as art director of Tidskriften Astra and graphic designer of Almanac Journal of Trans Poetics. www.robynn.xyz

*********************************
At the event we will also exhibit part of Astra's archive, issues from 1992-today, a valuable resource for designers, illustrators, feminists and others to see.

Join us and bring your friends! We will sell the issue at a special discounted price and there will be free snacks and drinks to buy. The space is wheelchair accessible.

Tidskriften Astra #3-4 2022 Ekologier is currently out in shops in Finland and Sweden. You can find retailers and also buy the issue directly online at astra.fi/tidskriften. Be sure to follow Astra on instagram: @tidskriftenastra

Contributors in this issue
Amanda Jonsson
Amanda Nylund
Anna Dehlvin
Ann Remmets
Arvid Ullberg
Arwen Meereboer
Camille Auer
Elina Berglund
Emma Göransson
Felicia Siriam Larsson
fia linnéa emelie doepel
Flora Liedgren
Hanna Järgenstedt
Johanna Zilliacus
Julia Chew
Kim Silow Kallenberg
Linda Boodh
Louise Buenafe Mistén
Lou Lundkvist
Moa Edvinsson
Natalie Högström
Roula Alnakoud
Saana Kotila
Sophia Ernestål
Vín Dahlborg
BA2 Class / Konstfack Graphic Design and Illustration
Amanda Jonsson
Andreas Braun
Anna Dehlvin
Arvid Ullberg
Einar Zotterman
Elina Berglund
Felicia Siriam Larsson
Flora Liedgren
Hanna Järgenstedt
Julia Chew
Lou Lundkvist
Michelle Nafar
Moa Edvinsson
Rut Runesdotter
Sophia Ernestål
Stina Karlberg

In collaboration with IASPIS – The Swedish Arts Grants Committee's international Programme for Visual and Applied Arts

The Bookshop Situation Series at Index is based on events to present books, magazines, records and other artistic formats. The bookshop situation is a way to test content, to share it, to distribute it, offering situations to be part of a community of experimental producers and users.