Bookshop Situation Series: Studies in Curating Art VII. Across and Beyond: Body and Landscape in Translation
29 September 2022, 17:00–19:00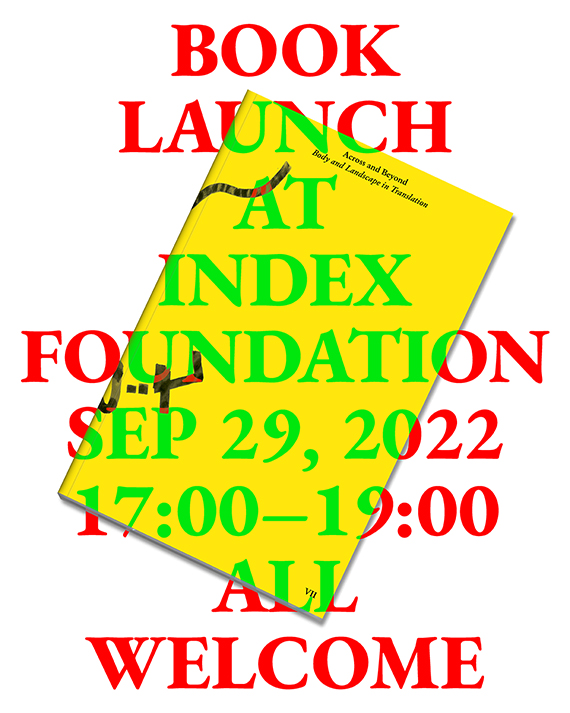 Welcome to the release of Across and Beyond: Body and Landscape in Translation, a book edited by Karolina Aastrup, Paulina Granat and Isabelle Ribe, students in the International MA in Curating Art at Stockholm University during the course on publication practices.
Translation is a careful process of carrying across the fullness of a spoken, written, signed, hummed or visualised message. Unavoidably, things will get lost, or spilled, along the way. In this publication, eleven artists address the act of translating across both human and non-human communication, using the languages of maps, mathematics, English, Meänkieli, Sámi, Sign Language, Swedish, Farsi and more, thereby creating new universes in which to exist.
The book approaches translation in terms of expansion, extraction and presence – as a profoundly intimate, embodied phenomenon and something that we do constantly in order to understand the contexts and landscapes in which we live. In an era of increasing polarisations, shifting identity politics and climate breakdown, we are constantly redefining our relationships to ourselves, each other and our environment, making translation in this expanded perspective particularly urgent. The featured artists treat the book as a public space, investigating the queer and leaky qualities of translation, its elements of surprise and its possibilities for both displays of power, oppression and refuge.
The launch will include a short presentation by the editors, a performance by Elina Birkehag, a sonification session with Axel Gagge, and provide space to discuss the book with its contributors.
Contributing artists: Axel Gagge, Diana Agunbiade-Kolawole, Elina Birkehag, Joi Wengström, Karin Keisu & Josse Thuresson, Malin Lin Nordström, Shiva Anoushirvani, Tilda Dalunde, Timimie Märak, tm.
The Bookshop Situation Series at Index is based on events to present books, magazines, records and other artistic formats. The bookshop situation is a way to test content, to share it, to distribute it, offering situations to be part of a community of experimental producers and users.