Bookshop Situation Series: Poet Box with Lucia Peiró, J.M.Calleja and Bartolomé Ferrando
8 June 2023, 18:00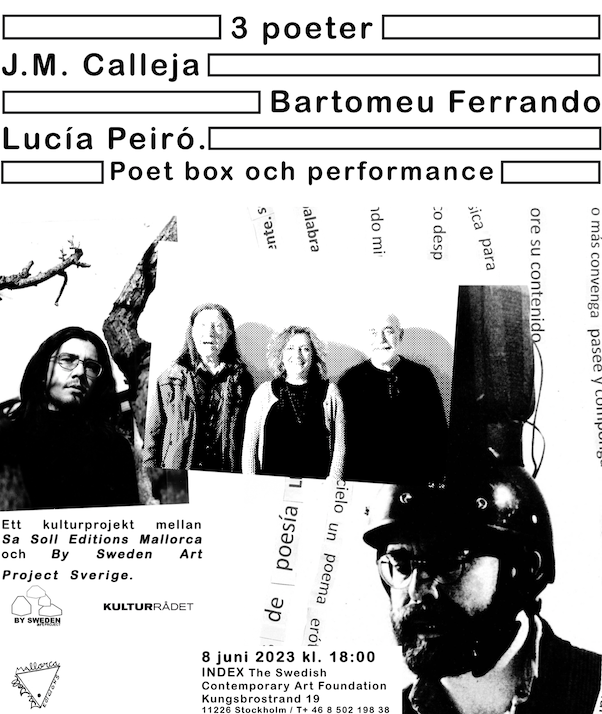 Sa Soll Edicions (Spain) collaborates with By Sweden Art Project to present "Poet Boxes" as part of an evening with three performances at Index. Horacio Sapere and Pilar Esteve (Sa Soll) will be in conversation with Hugo Catolino (Sweden Art Project) to present this extensive editorial project connecting visual poetry and performance.
The event will include the performative work of classic Spanish figures such as J.M. Calleja, Bartolomé Ferrando and Lucía Peiró that will be at Index showing their practice connecting poetry and art.
Bartolomé Ferrando (1951, Spain) is a performer and visual poet. He studied music and Hispanic philology. He is a professor of performance and intermedia art at the Faculty of Fine Arts of the Polytechnic University of Valencia. He was the founder of the magazine "Texto Poético".
J.M. Calleja (1952, Spain) is a visual poet and performer coming from the world of the image (photography-cinema). He performed different films (s. 8m / m) during the years 1976-81.
Lucía Peiró (1962, Spain) is an interdisciplinary artist who has been using performance, visual graphics, installations, objects and sound in her work since the 1990s.
Sweden Art Project is supported by Kulturrådet to present this project in Sweden.
The Bookshop Situation Series at Index is based on events to present books, magazines, records and other artistic formats. The bookshop situation is a way to test content, to share it, to distribute it, offering situations to be part of a community of experimental producers and users.
We would like to thank the Spanish Embassy in Stockholm for their support with this event.