Bookshop Situation Series: Michael Nardone and Sophie Seita on AURAL POETICS (OEI #98–99)
4 May 2023, 18:30–21:00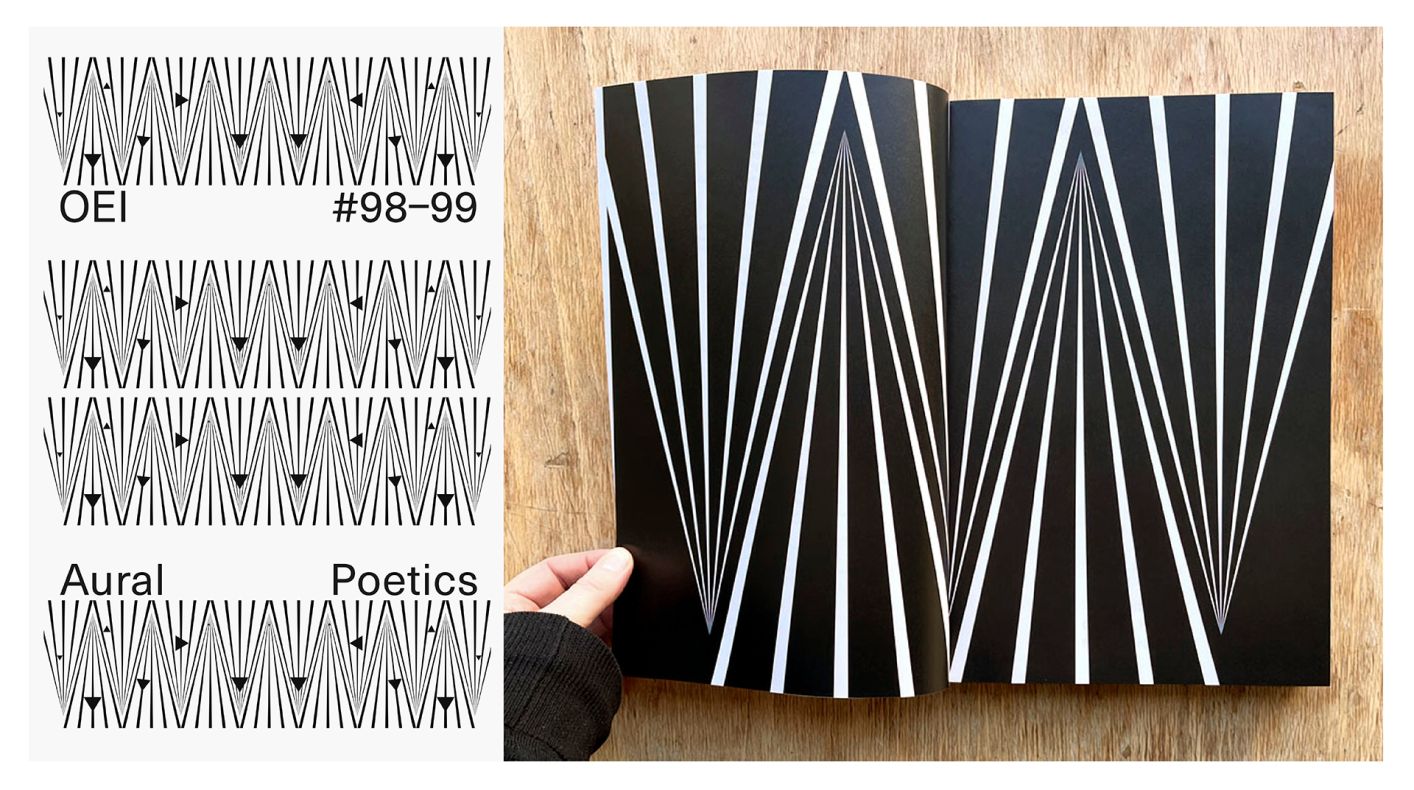 Michael Nardone (Montréal) presents his guest-edited issue of OEI, OEI #98–99: AURAL POETICS (368 pages), alongside the artist and issue contributor Sophie Seita (London) and the publishers of OEI, Jonas (J) Magnusson and Cecilia Grönberg.

"The domain of the aural opens, at once, on to the act of composition and on to the iterative context of a composition's reception; it comprises embodiment(s) imbricated with an array of inscriptive practices. The works of these pages instantiate (as compositions) and contemplate (as critical texts) the differing degrees in which techniques of the body enter into dynamic relation with modes of inscription, forming a feedback loop that co-constitutes their capacities. To this degree, an aural poetics – in opposition to the vast discourse of its homonym – can evade the facile separation of an essentialized "oral" and "written," veer away from the technological determinism and psychosocial developmental model that commentators have grafted upon this faux binary, and compel us to imagine and examine composition across artistic practices through assessing specific articulations of materials and occasion. Here, listening is manifold." (Michael Nardone, from the "Editorial Afterword")

Michael Nardone is a poet and editor based in Montréal. His most recent works include OEI #98–99: Aural Poetics and, in collaboration with the live artist Dana Michel, Yellow Towel: A Score (Bookem Dan–O). His writings on literature, media, and sound are collected at https://soundobject.net.

Sophie Seita is an artist and writer who works with language as a material across expansive writing projects, performances, lecture performances, videos, sound installations, and textiles. She's presented, performed, and exhibited her work nationally and internationally. She's the author of, most recently, Provisional Avant-Gardes (Stanford University Press, 2019) and My Little Enlightenment Plays (Pamenar, 2020). Upcoming projects include an exhibition at Mimosa House, London (Oct-Dec 2023) and a book of experimental essays, Lessons of Decal, forthcoming from the 87 Press. She teaches on the BA Fine Art & Art History at Goldsmiths.

OEI is a Stockholm based magazine for extra-disciplinary spaces and de-disciplinizing moments – experimental forms of thinking, montages between poetry, art, philosophy, film, and documents; critical investigations, editorial enunciations, aesthetic technologies, non-affirmative writing, speculative archaeologies, new ecologies and counter-historiographies.
www.oei.nu

The Bookshop Situation Series at Index is based on events to present books, magazines, records and other artistic formats. The bookshop situation is a way to test content, to share it, to distribute it, offering situations to be part of a community of experimental producers and users.