Bookshop Situation Series: OEI #94–95: geografier [geographies]
7–7 April 2022, 18:00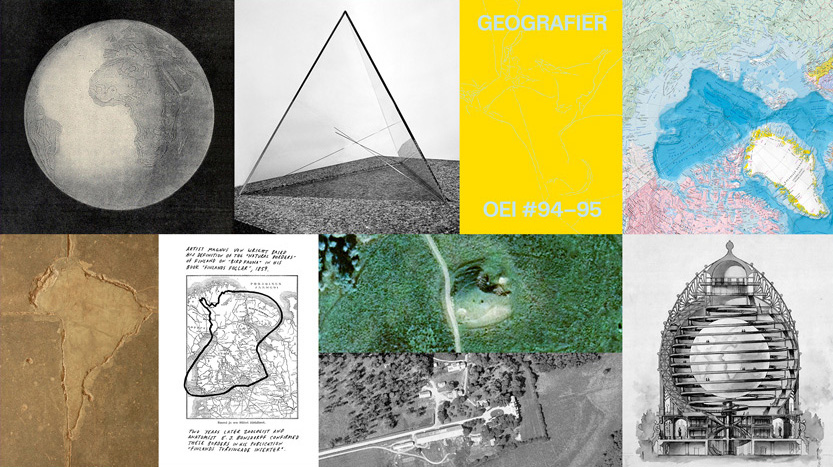 Welcome to the release of OEI #94–95: geografier [geographies]
Participants: Gunnar Olsson, Johan Redin, Christina Kullberg, Erik Bryngelsson, Anna Enström, Axel Andersson, Johanna Adolfsson, Pontus Pettersson, Minus Miele, Jonathan Brott, Eva Arnqvist, Cecilia Grönberg & Jonas (J) Magnusson

OEI #94-95 devotes 464 pages to "geographies", and includes works on and by Gunnar Olsson, Élisée Reclus, Pjotr Kropotkin, Doreen Massey, David Harvey, Christina Kullberg, Minna Henriksson, Erik Bryngelsson, Bureau d'Études, Raymond Williams, Carla Zaccagnini & Santiago Costantino, Trevor Paglen, Peder Alexis Olsson, Hérodote, Antipode, Eva Arnqvist, Aeron Bergman & Alejandra Salinas, Lytle Shaw, Jasna Jaksić, Bogdanka Poznanović, Radmila Iva Janković, Ivan Kožarić, Jonas (J) Magnusson, Nicolas Pesquès, Johannes Fridholm, Strabon, Johan Redin, Ptolemaios, Gustav Sjöberg, Edmund Husserl, Michael Marder, Georges Bataille, Katja Aglert, Filip Lindberg, Raketa, Minus Miele, Augustin Berque, Christian Abrahamsson, Alexander von Humboldt, Franz Boas, Runo Lagomarsino, Alfred Wegener, Jonathan Brott, Klaus Dodds, Louis Marin, Edwin Abbott Abbott, Anna Enström, Immanuel Kant, Mary Hunter Austin, Johanna Adolfsson, Mattias Legnér, FRAUD (Audrey Samson & Francisco Gallardo), Aihwa Ong, Emmeli Person, Bronwyn Bailey-Charteris, Pontus Pettersson, Mattias Jacobsson, Michel Chaillou, Cecilia Grönberg, Pehr Tham, Lasse Krog Møller, Kristoffer Ørum, Erika Arzt & Juan Linares, Martin Grennberger, Bo Anders Persson, Buckminster Fuller, Glenn Gould, Indigenous Peoples Atlas Of Canada

The event will be held in Swedish. For more information about OEI publications, visit their webpage here.

The Bookshop Situation Series at Index is based on events to present books, magazines, records and other artistic formats. The bookshop situation is a way to test content, to share it, to distribute it, offering situations to be part of a community of experimental producers and users.