Bookshop Situation Series: Double Release with OEI and Ord&Bild
19 November 2021, 17:30–20:00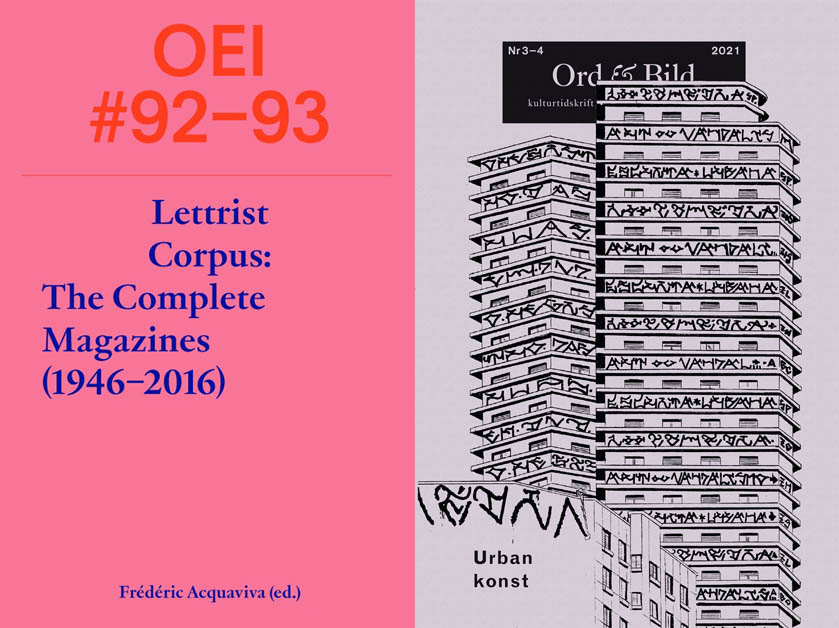 Welcome to a double release event with OEI and Ord&Bild at Index! OEI presents, Lettrist Corpus: The Complete Magazines (1946–2016) and Ord&Bild presents, Urban konst. During the evening, visitors will get the chance to hear more about each publication including talks by invited editors and guests who have contributed to them.
OEI #92–93: Lettrist Corpus: The Complete Magazines (1946–2016)
This special issue, guest edited by writer, curator and sound artist Frédéric Acquaviva, is the very first comprehensive publication on Lettrist magazines. It describes, shows and contextualizes all issues of all 119 magazines created between 1946 and 2016 in, or in connection to, Lettrism – this vibrant and dynamic French avantgarde movement whose publishing adventures and efforts have, until OEI #92–93, been far too little known.
The event will also host a talk by Lytle Shaw, professor of English at New York University and a contributing editor for Cabinet magazine. His books include Frank O'Hara: The Poetics of Coterie, The Moiré Effect, Fieldworks: From Place to Site in Postwar Poetics, Narrowcast: Poetry and Audio Research, and New Grounds for Dutch Landscape. His museum catalog publications include essays on Robert Smithson, Gerard Byrne, Zoe Leonard and the Royal Art Lodge.
OEI is a Stockholm based magazine for extra-disciplinary spaces and de-disciplinizing moments – experimental forms of thinking, montages between poetry, art, philosophy, film, and documents; critical investigations and mappings, editorial enunciations, non-affirmative writing, new ecologies, and counter-historiographies. OEI, started in 1999, has published 93 issues.
Ord&Bild 3-4 2021: Urban konst
A journal issue about urban art immediately raises questions. Which urbanity? What art? How does it relate to the institution and to contemporary art? The circumstance that this issue has been put together with Daniel Terres and Patrick Haggren, who work at the publicly funded organization "Urban Konst" at Göteborgs Konsthall, adds several more layers. Therefore, it is not so strange that the issue is both broad in range and rich with images.
Our shared thoughts are precisely this: To try and pinpoint and at the same time complicate it. To see what happens if the aesthetics of urban art are presented in an entirely different environment. The relationship between the art gallery, urban space and an adjacent cultural sphere, sometimes attributed to urban art, is discussed in the issue.
For the release, Isabel Löfgren will talk about collective strategies for care amongst artistically active transgender people in Brazil.
Contributors Ord&Bild 3-4.2021 Urban konst: Anders Sunna, Christian Nilsson, Cripta Djan, Daniel Terres, Denise Ferreira da Silva, Donia Saleh, Felicia Mulinari, Filip Lindberg, Fredrik Svensk, Frida Sandström, Futuro Berg, Hanna Borgblad, Hanni Kamaly, Ikram Abdulkadir, Isabel Löfgren, Jenny Högström, Johannes Björk, Jonatan Habib Engqvist, Laleh Kazemi Veisari, Lars-Erik Hjertström Lappalainen, LOBA gi, Mirna Ticona, Oscar Svanelid, Ove Sernhede, Pablo Allison, Patrik Haggren, Rizvana Bradley, The Lapin King, Toke Lykkeberg, Tongo Eisen-Martin, Yoko Carlsson, Zevs
Urban Konst is part of Göteborgs Konsthall since 2017 and began in 2015.
Ord&Bild is an independent radical journal, carrying its rich legacy for 129 years. Publishing articles on culture, philosophy and politics, making room for critical thinking, literature and reviews, the journal invites readers to discover new and old authors as well as contemporary art.