Bookshop Situation Series: Anna Kinbom, Karaoke Lecture
26 February 2020, 18:00–20:00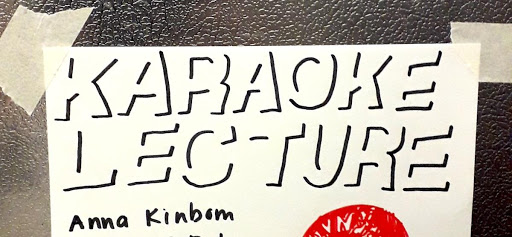 Karaoke Lecture is a performance in which Anna Kinbom invites the audience to join her in singing songs she has written between 2014-2018. These songs have been performed to various audiences, in public space and in art spaces. In 2019 Anna Kinbom produced a publication for her performance of Karaoke Lecture at Vereinigung bildender Künstlerinnen Österreichs (VBKÖ) in Vienna. At Index she presents this publication by performing her songs and inviting the audience to sing with her.
Anna Kinbom lives and works in Stockholm. She holds a MFA from the Royal Institute of Art in Stockholm and studied performative art at the Academy of Fine Arts in Vienna. Her artistic practice is collaborative; her works are made in the context of various artist collaborations of which she is a part. Kinbom makes text-based performances, micro-stories, pop songs, images, and works with various alter egos. Kinbom has shown works at Botkyrka konsthall, Moderna museet, Göteborgs konsthall in Sweden, Casa Victor Hugo in Havana, Paradise AIR in Matsudo, Japan and Cité internationale des arts in Paris.
The Bookshop Situation Series at Index is based on events to present books, magazines, records and other artistic formats. The bookshop situation is a way to test content, to share it, to distribute it, offering situations to be part of a community of experimental producers and users.