Artist Talk: Pauline Curnier Jardin
2 September 2021, 18:00–18:45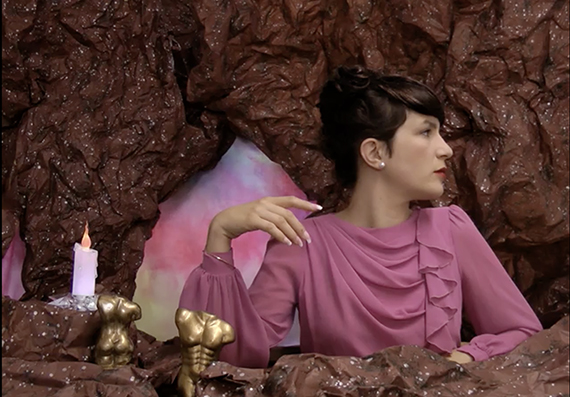 Index will host an artist talk with Pauline Curnier Jardin during the exhibition opening of WAITING FOR AGATHA, SEBASTIAN AND THE REST OF THE HOLY CHILDREN — UNFOLDING A FILMIC RESEARCH.
The artist talk will take place from 18:00–18:45 on Thursday, 2 September. Visitors need to book their place for the talk in advance by sending an email to: rsvp@indexfoundation.se
Pauline Curnier Jardin works with films and installation offering unexpected ways to understand narrative. She includes historical references, symbolic content, operatic gestures, musical scores, performativity and several approaches to desire and repulsion which in turn raise questions about feelings, ideas and information. Her layered practice moves from physicality to sensitivity, from image culture to secret languages, from surrealistic chaos to narrative structure. Opera or Classical theatre could be possible symbolic frames for Curnier Jardin's work as it emotionally and subjectively moves the spectator.
Pauline Curnier Jardin (b. 1980, Marseille, France) is a Berlin and Rome-based artist working across installation, performance, film and drawing. She is the winner of the 2019 German Preis der Nationalgalerie, the 2021 Villa Romana Prize in Firenze and recipient of the 2019-2020 Villa Medici fellowship in Rome. Her work was included or commissioned over the last years in Steirischer Herbst Festival, Graz; Manifesta 13, Marseille; Palais de Tokyo, Paris; the Bergen Assembly, Bergen Biennial; International Film Festival, Rotterdam; the 57th Venice Biennale; Tate Modern, London; Performa 15, New York. Curnier Jardin's current solo exhibition, "Fat to Ashes" is on display at Hamburger Bahnhof Museum für Gegenwart, Berlin and she has an upcoming solo exhibition at Art Basel in 2021. She will also participate in the group exhibitions at the Fondazione Sandretto Re Rebaudengo, Torino; Galeria Municipal do Porto, Portugal; Haus der Kulturen der Welt, Berlin.