A letter from 2019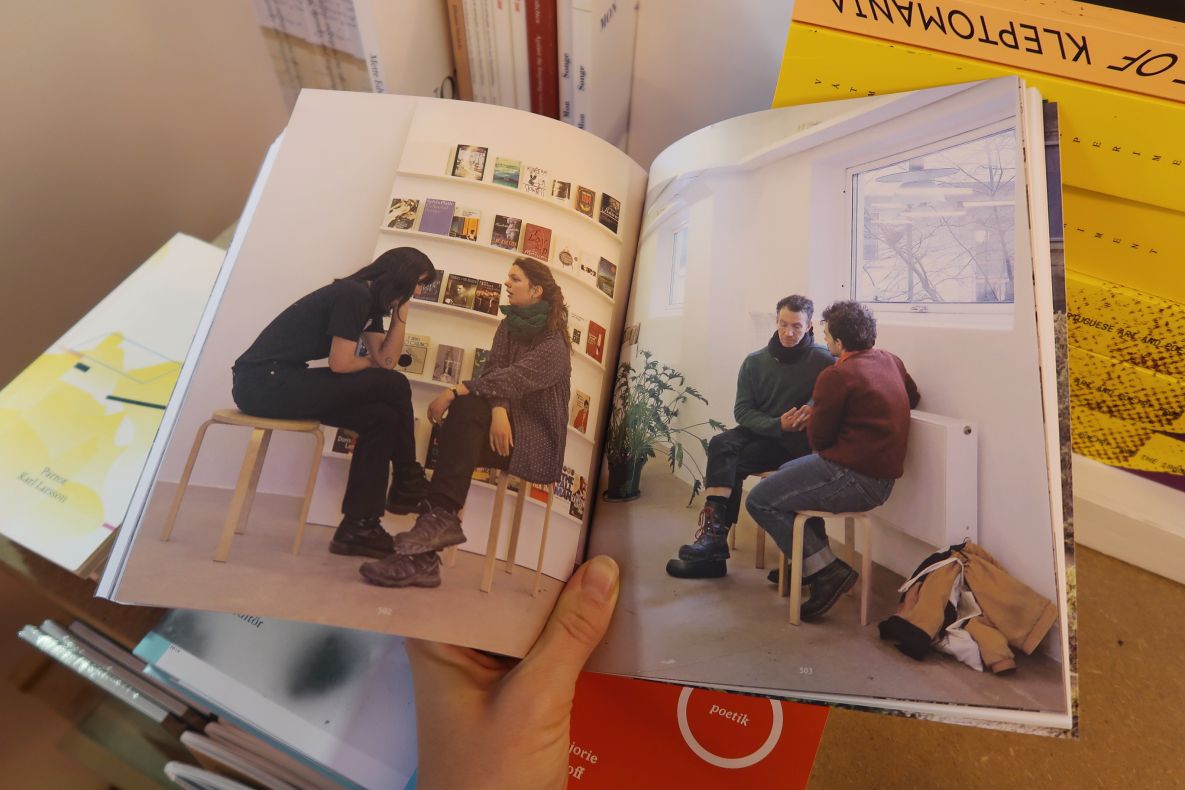 2019 has been an important year for Index. We started 2019 moving our office to the gallery space and opened our exhibition's program with Mette Edvardsen. The human presence was evident: not just Index team was at the exhibition space but the exhibition itself had, among other content, people being books waiting to be read. It was cold outside and warm inside, with many conversations around art and culture, texts and books.
Regarding books, we have started our Bookshop Situation Series program to release books and projects and, right now, Index is a place where to get books and – more important – talk about them. During the whole year many publications have been launched at Index. Books produced by artists, curators and collectives. We will keep working with this program as it is a way to open our doors to more artists and artistic practitioners and, as we can see, there is a need for other forms of distribution for ideas and experiments.
After Mette Edvardsen it was time for Roxy Farhat. If with Edvardsen we were jumping between choreography and conceptual art – we want to say thanks to MDT for the collaboration and nice conversations -, with Farhat we were showing a double performativity appearing in artistic films and music videos. A feminist political agenda was more than present and the discussion around identity appeared in many conversations. An important number of events were connected to the exhibition of Roxy Farhat, our Swedish artist of the year with her first important solo show presenting 10 years of work. Among others, Andrea Fraser was talking and performing at the exhibition and a possible genealogy for Farhat was taking form.
Then it was time for Chris Kraus. We produced an archive exhibition presenting her films from late 80's and the 90's connecting them to her writing practice. For us it was important to show some films that have been forgotten in history writing. We believe that Chris Kraus films are extremely pertinent today, with its peculiar performativity, its linguistic definition and the crossover between philosophy and life. We would love to see her films in museum collections and we are really happy to inform that the exhibition is going to be presented at Tabakalera (in San Sebastian) and our involvement with Chris Kraus will continue during 2020.
The last exhibition during 2019 has been the project with Teresa Solar. After an archive-based exhibition it was time for an explosion of objects, colors and lights. A cavalcade balancing between ideas, linguistic and material constructions negotiating with ideas related to the museum exhibition, the amusement park, the universal exhibition and the question related to the artisticity of objects.
All the exhibitions at Index during 2019 have been with women artists. We can see an historic gap on solo shows with women in many art centres and museums and we, as institution, want to address this matter having not just a feminist discourse but a reality that is aware of the importance to act. We will continue with more strong women artists next year.
But Index is not just exhibitions. The flexible temporality of the institution appears also through its activities, the learning program and some special situations. One of them has been the "secret" one-night exhibition organized by Annika Larsson: a group of people spent the night at the exhibition space following a program of films and performances till 8:00 in the morning, when breakfast was served. And yes, it's not the same to watch a film by Susan Hiller at a regular exhibition time than at 03:00 with some visitors already sleeping. We want to check other ways to work with artist, with other time patterns. This is why we invited Anna Barham to be our first artist within the Research Processes Program: We opened a field with no boundaries, no obligations, no deadlines and we have been talking for one year about language, systems of presentation and production, art and philosophy. Another long-term commitment has been the one from the artists Ina Hagen and Sol Archer: they have been working together during many months with ITAB (Index Teen Advisory Board). The result of their conversations and multiple workshops was presented during our summer festival The Defying Parrot. A festival becoming a school, a learning experience echoing in time. The Teen Advisory Board and the festival offer to us new ways to think on what an institution do, what audience we address and what type of participation we offer.
We at Index understand that we have a public responsibility. Working with public funding make us aware of the need for complexity and openness at the same time, offering a context for deep discussions while experimenting with sensitiveness. To visit exhibitions at Index is always for free, all the events are always for free and we want to continue being this public platform for experimenting with art and its complexity. From an institution with human size, from a team of devoted individuals bringing ideas together.
Thanks for sharing time with us,
Marti Manen
Director of Index Foundation