Joseph Grigely
7 October–12 November 2000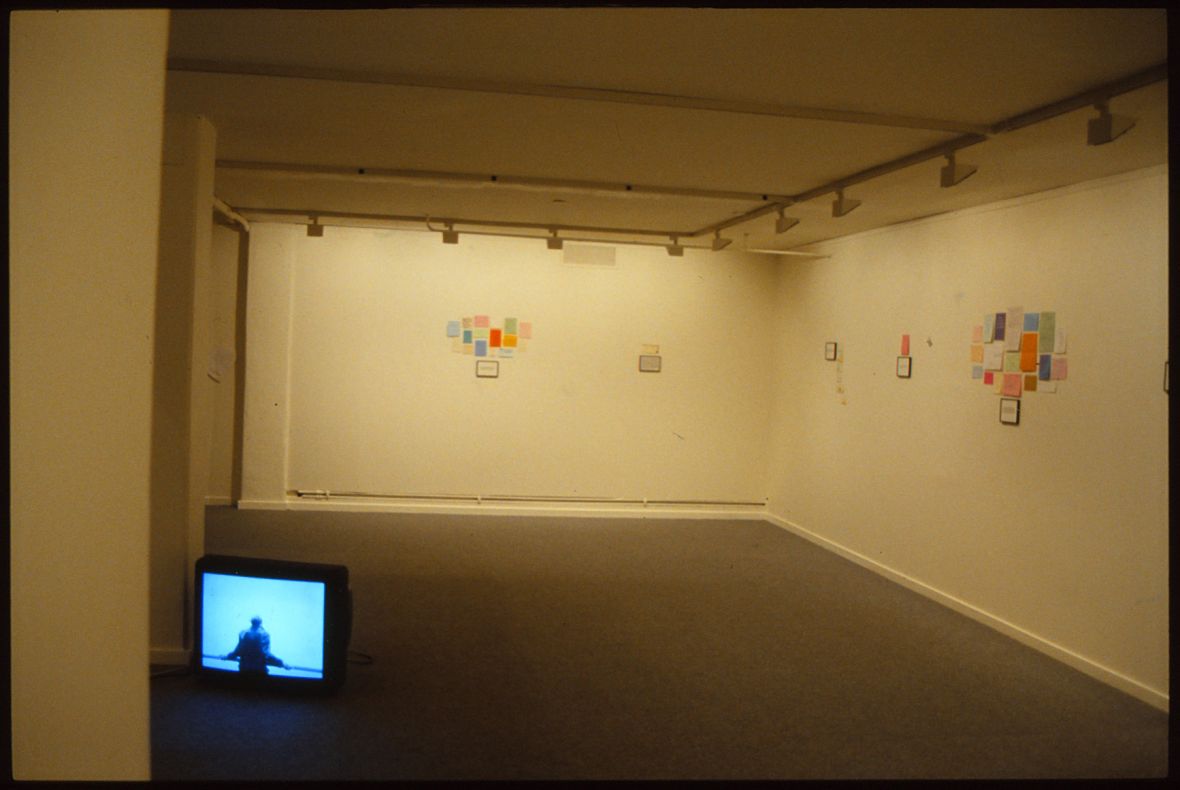 Joseph Grigely 7 October – 12 November 2000
Opening Saturday, 7 October, 2-5 p.m.
The first work I ever saw by Joseph Grigely was a table covered with what remained from a social gathering. Bottles of coca-cola, full ashtrays and dirty dishes. And as well, spread out around the table, fragments of handwritten text; individual words and sentences written on serviettes, newspaper and notepads. I wouldn't be surprised if this was also what Joseph Grigely himself saw as he started tidying up after an evening with some friends, when suddenly it struck him that this too was a work of art. Gathered together here were vital elements of his own life as an artist: communication, sociality, documentation and the fact that he had turned deaf at eleven years of age.
Joseph Grigely talks and lip-reads. But sometimes, there are misunderstandings and certain things need to be clarified. That's when people write notes for Joseph. Sometimes it is a little story, sometimes a complete sentence, but mostly it is just a few, individual words. These notes comprise the core of Grigely's work. These fragments of past conversations are linguistic snapshots saved by the artist / archivist. The messages can be totally incomprehensible, yot also deeply personal. Sometimes the paper that the text is written on is itself the message. It could be a check from a restaurant in Birmingham, a serviette with a logo, a ticket from a museum, the backside of an opened envelope…
After viewing the fragments of text, it becomes apparent that they do not come from the artist's own hand, but from those who are around him. As a viewer/reader, we are put in the artist's situation. We are the receivers, the messages are directed at us. Just like the artist, we stand in silence, in the eye of the storm surrounded by a whirlwind of words. This silence is closely related to melancholy. Probably, it has something to do with the passing of time, these messages move us in the same way as photographs sometimes do. It is too late, after the fact, the party is over – this time.
Andreas Gedin
Joseph Grigaly was born, 1956, in Springfield, Massachusetts, USA, and lives and works in Jorsay and Michigan, USA. He has had a number of solo shows including. Anthony d'Offay Gallery, London, and Musée d'Art Moderne in Paris. Group shows during 2000 include the Whitney Biennial, Museum of Contemporary Art, Los Angeles, Matthew Marks Gallery, New York, Portikus, Frankfurt, Kunsthaus, Zurich, and the Biennials in Venice, Istanbul and Sydney. Grigely is represented by Cohan, Leslie and Browne Fine Arts, New York. He teaches Art and Critical Theory at the University of Michigan, Ann Arbor.